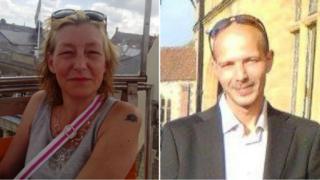 A man and woman are critically ill in hospital in Wiltshire after being exposed to the nerve agent Novichok.
The pair, Charlie Rowley and Dawn Sturgess, fell ill at a house in Amesbury, about eight miles from Salisbury, on Saturday.
Police said they were exposed after handling a contaminated item – although they have not identified what the item was.
This is what we know so far.
What happened?
On Saturday, paramedics were called twice to a flat in Muggleton Road in Amesbury – first at 11:00 BST after Ms Sturgess, 44, collapsed.
Medics attended again several hours later, after Mr Rowley, 45, also fell ill.
A friend of the couple, Sam Hobson, said Ms Sturgess had appeared to have a fit and was "foaming at the mouth".
When Mr Rowley became ill, he was sweating profusely, dribbling and his eyes were "red, pinpricked", Mr Hobson said.
Scientists at the UK's military research lab, Porton Down, found the couple had been exposed to the nerve agent, Novichok.
What are Novichok nerve agents?
What have police said?
Wiltshire Police said it was initially believed the two patients had been using heroin or crack cocaine from a contaminated batch of drugs.
But, after more tests, police declared a major incident and counter-terror police are now leading the investigation.
They confirmed on Thursday that the pair had been exposed to Novichok when handling a contaminated item, but they have not revealed what it was.
A government scientist told the BBC the contaminated item was probably discovered by the couple in a contained space.
The nerve agent was so toxic it was able to pass through the skin and did not need to be ingested, he added.
Five areas in Amesbury and Salisbury have been cordoned off.
What is the line of inquiry?
Assistant Commissioner of Specialist Operations Neil Basu said that "around 100 detectives" from the Counter Terrorism Policing Network (CTPN) were working on the investigation, alongside Wiltshire Police.
Mr Basu added that the investigation's priority was to establish how those affected came into contact with the nerve agent.
Officers are searching for the contaminated item which they believe was handled by Ms Sturgess and Mr Rowley.
But police have warned the operation could take "weeks or months" to complete.
They are looking through more than 1,300 hours of CCTV footage to help them find the source of the contamination.
Home Secretary Sajid Javid said that working out whether there was a connection to the attempted murders of Yulia and Sergei Skripal was "clearly the main line of inquiry".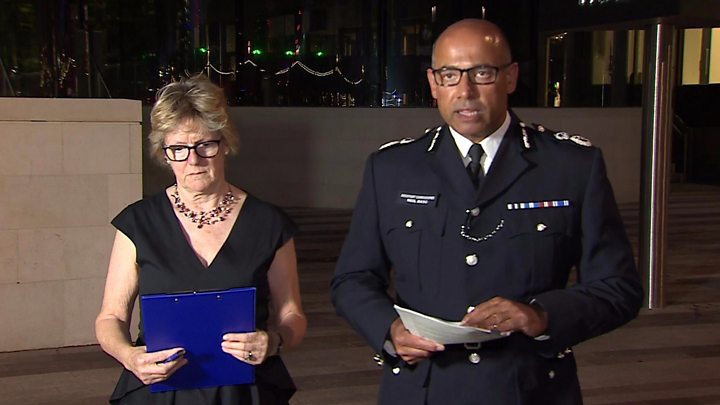 Russian former spy Sergei Skripal and his daughter Yulia were poisoned nearby in Salisbury on 4 March.
Officers said no one had presented with the same symptoms and there was "nothing in their background" to suggest Mr Rowley and Ms Sturgess were targeted.
The public could expect to see an increased police presence – including "officers wearing protective equipment" – at a "number of sites" over the coming days, Mr Basu added.
Russian spy: What happened to the Skripals?
Who are the victims and where had they been?
Ms Sturgess is understood to be a mother of three who lives at John Baker House in Salisbury, which offers supported accommodation.
It has been cordoned off by police and officers wearing hazmat suits were seen entering the building on Friday.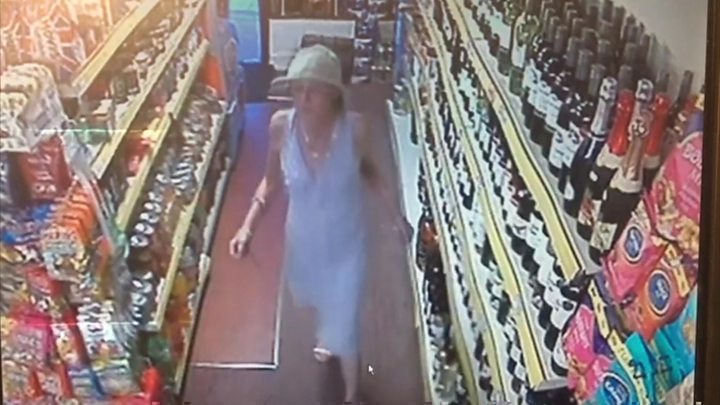 A close friend of Ms Sturgess's, who lived in the same building, described her as a "loving and caring person" and said she "never did drugs".
Mr Rowley's older brother, Matthew, said: "He's a lovely guy and would do anything for you. He's a sweetheart basically."
He said what had happened to his brother was "heartbreaking" and said: "I love him to bits."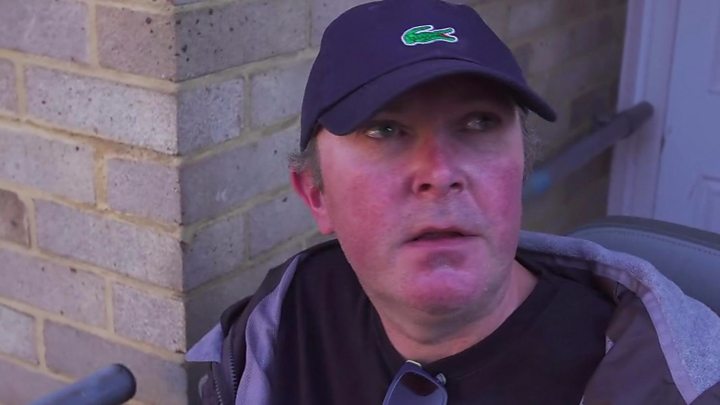 Police said the pair were both at John Baker House on Friday lunchtime, before visiting a number of shops in Salisbury and heading to Queen Elizabeth Gardens.
They returned to the hostel at around 16:20 BST, before heading to Amesbury by bus at around 22:30.
Police believe they were there until emergency services were called on Saturday.
Sam Hobson, 29, who also knew the victims, said he spent time with them on Friday and Saturday.
He said after Ms Sturgess fell unconscious and was taken to hospital, he and Mr Rowley went to a chemist in Amesbury to collect a prescription before going to an event at a nearby Baptist church.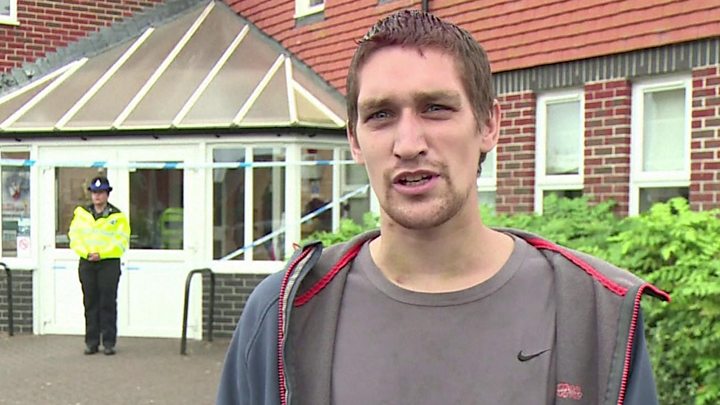 The two men returned to the flat and planned to visit the hospital but Mr Rowley "started feeling really hot and sweaty" and "acting all funny", Mr Hobson, 29, said.
"He wasn't like he was him and he was rocking against the wall and his eyes were red, pinpricked and he started sweating loads and dribbling so I had to phone an ambulance for him."
Wiltshire Police initially thought the pair had fallen ill after using a contaminated batch of heroin or crack cocaine, based on information from a friend and items found at the flat.
The leader of Salisbury City Council, Matthew Dean, said the pair were known to the local authority and were "on the road to recovery".
Five areas the victims are believed to have visited prior to falling ill have been cordoned off: in Amesbury they are Muggleton Road, Boots pharmacy and the Baptist church, while in Salisbury and John Baker House in Rolleston Street and Queen Elizabeth Gardens are being checked.
On 7 July, a Wiltshire police officer was tested for possible exposure to a nerve agent but was given the all-clear by doctors at Salisbury District Hospital.
What has the government said?
Prime Minister Theresa May said her thoughts were with the victims of the poisoning, adding: "The message from Salisbury is clear – it is very much open for business.
"The government will continue to provide every support to the local community."
Mr Javid called on Russia to explain "exactly what has gone on", adding: "We will stand up to the actions that threaten our security."
The home secretary said he was "comfortable" the "exact same nerve agent" had been used in both the Salisbury and Amesbury poisonings – but added it was not yet known they were from the same batch.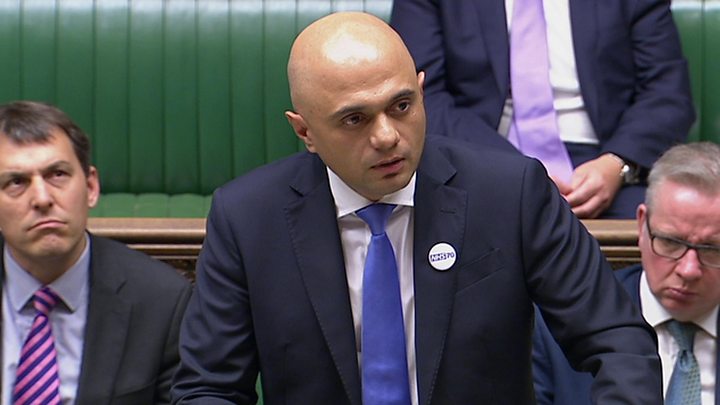 Meanwhile, Tom Tugendhat, chairman of the Commons Foreign Affairs Select Committee, said the latest incident was a result of a "war crime" by Russia. Using a nerve agent in a civilian area was a "vile act of terror", he added.
What has Russia said?
The government accused Russia of being behind the poisoning of the Skripals in March, which Moscow denied, souring relations between the two countries.
In response to Mr Javid's comments that Russia needed to provide an explanation following the Amesbury incident, Russia said Mrs May's government was subjecting them "to hell".
Russian foreign ministry spokeswoman Maria Zakharova urged police not to be led by the "dirty political game" and said she was confident London would have to apologise to Russia.
Russian President Vladimir Putin's spokesman, Dmitry Peskov, called the news "alarming" and said it was causing "deep concern".
"From the very beginning of the Salisbury story, Russia has categorically denied and continues to deny the possibility of any involvement in what happened there," he told state-run TV.
Is there a risk to the public?
Repeating advice from Public Health England (PHE), Mr Javid said there was "no significant risk to the wider public", adding: "The risk to the public remains low."
Security minister Ben Wallace told the BBC he could not guarantee people were "100% safe" from further contamination.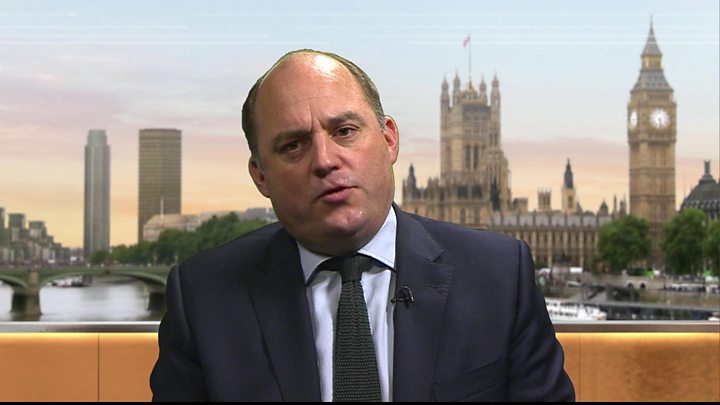 Asked whether the people of Salisbury and Amesbury were at risk, Mr Wallace said the "best intelligence officers in the world" were working on the investigation but until the full picture of the Skripal assassination attempt was known, he could not offer complete reassurance.
He added that the "nature of a nerve agent such as Novichok" meant that finding other traces of it was like looking for a "tiny needle in a haystack".
What is the health advice?
PHE has urged anyone who may have visited the locations that have been cordoned off by police to wash and clean their clothing and personal items.
Although they said there was "no immediate" danger, anyone who was at the five areas between 22:00 on 29 June and 18:30 on 30 June should:
Wash the clothing they were wearing
Wipe down personal items like phones and bags with cleansing or baby wipes
Double-bag any items which are dry-clean only
The risk to the public is low, said Mike Wade, from PHE South West, adding: "We will keep this assessment under constant review as further information becomes known."