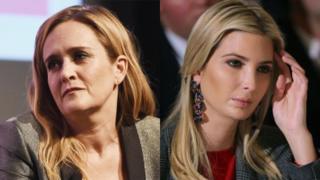 Comedian Samantha Bee has apologised after insulting Ivanka Trump with a vulgar phrase on her television show.
Bee also condemned President Donald Trump's daughter and White House adviser for not doing more on immigration policy.
The tirade has earned Bee comparisons to Roseanne Barr, whose sitcom was cancelled earlier this week after she sent out a racist tweet.
Bee apologised on Thursday, saying she "crossed a line" with her language.
What did Samantha Bee say?
Bee, who often uses profanities on her political commentary show Full Frontal, attacked the president's daughter over a recent Instagram photo the first daughter posted of herself hugging her child.
The presenter said the first daughter had been "oblivious" to post the picture in light of America's long-standing policy of separating undocumented immigrant children from their families.
"You know, Ivanka, that's a beautiful photo of you and your child, but let me just say, one mother to another, do something about your dad's immigration practices," Bee said.
Bee called Ms Trump a "feckless [expletive]".
The vulgar phrase she chose is widely viewed as the most offensive term to call a woman.
The immigration issue has gained traction in recent weeks since it came to light that US authorities have been unable to contact almost 1,500 unaccompanied children placed in the care of sponsors.
The hashtag #Wherearethechildren was used hundreds of thousands of times on Twitter.
Why did Ivanka's mother and child photo spark backlash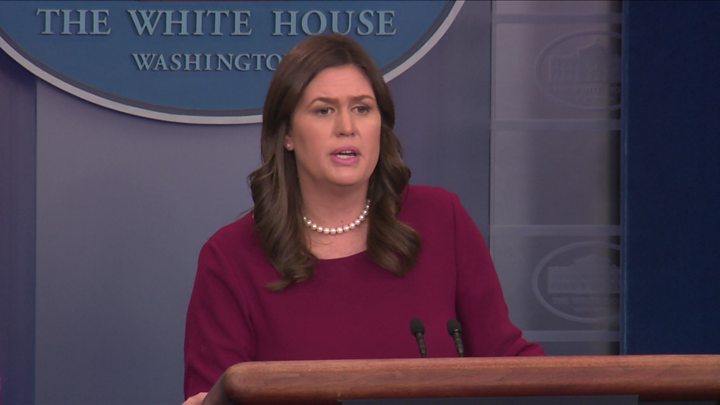 What's the fallout?
Conservative news organisation The Daily Caller reported that First Lady Melania Trump has responded, saying that "the double standard is truly astounding".
White House press secretary Sarah Sanders called Bee's language "vile and vicious".
"The collective silence by the left and its media allies is appalling," Ms Sanders said.
"Her disgusting comments and show are not fit for broadcast, and executives at Time Warner and TBS must demonstrate that such explicit profanity about female members of this administration will not be condoned on its network."
Car retail website Autotrader.com, which sponsors Full Frontal, said it has suspended its support.
Bee's words are under the spotlight amid public debate about the ramifications of TV personalities using offensive language.
ABC cancelled the sitcom Roseanne this week within 24 hours of its titular star sending out a racist tweet likening an African-American former member of Barack Obama's cabinet to an ape.
Many accused the media of hypocrisy for not condemning Bee's comments as quickly or as fiercely as they did when Roseanne Barr attacked a Democrat.
"This is disgusting. How is this acceptable?" tweeted NBC News anchor Megyn Kelly.
"And how are we expected to take any of these publications seriously if they gleefully repost something like this at the same time they (rightfully) condemn @therealroseanne?"
Barr herself weighed in on the situation on Twitter.
She also retweeted a comment from a follower who contrasted her treatment with Bee's.