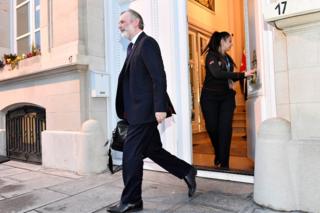 The message to the UK from Croatia's EU ambassador ahead of Brexit may have been abrupt, but it was apparently all meant in jest.
Irena Andrassy told British counterpart Sir Tim Barrow: "Thank you, goodbye, and good riddance."
Her parting shot came last week as she chaired the last EU meeting involving the UK as a member state.
The UK envoy took the comment with good humour at the weekly meeting of EU ambassadors.
Croatia currently holds the six-month EU presidency.
"The Brits saw the funny side and understood how it was meant. But history will show that these were the last words from the EU to the UK's ambassador before Brexit," one official in the room is quoted as saying by the Financial Times.
The meeting came two days before the UK left the bloc on Friday. Sir Tim, who was the UK's permanent representative, has since become the UK's ambassador to the EU.
A Croatian spokesman in Brussels said the remark came during "a humorous exchange between friends and in a closed session; it was warm and friendly and with the best intentions". The two ambassadors were on very good terms and saw each other in a formal setting regularly, he added.
Trade talks between the UK and the EU are due to begin in March and the bloc's own approach to the negotiations needs to be agreed by all 27 member states.
While the UK officially left the EU at 23:00 GMT on Friday, it will remain largely wedded to EU rules during a transition period which ends in December this year.
You may also be interested in: