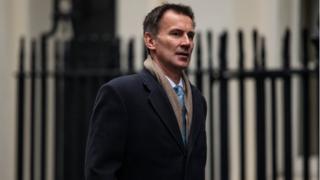 Foreign Secretary Jeremy Hunt has warned the UK faces "Brexit paralysis" if MPs reject Theresa May's EU deal.
He said two Commons defeats this week showed Parliament was "committed one way or another to try to stop no-deal".
But that would risk "no Brexit", he argued, which would be a "breach of trust" with the public.
He also took a swipe at Commons Speaker John Bercow, who he said was "willing to frustrate the government at every opportunity".
Mr Bercow has been accused of bias by some Tory MPs over his decision to break with Parliamentary precedent by allowing a vote on a government motion, which handed MPs more control over the Brexit process.
Mr Bercow said he was acting in the interests of MPs and had made an "honest judgement".
But Prime Minister Theresa May said on Friday she found his decision "surprising" and said there should be a "consistent interpretation" of Commons rules.
Mrs May is widely expected to lose next Tuesday's vote on the withdrawal deal negotiated between the UK and the EU – with more than 100 Conservative MPs, Labour and the DUP, which usually support the Conservatives in Commons votes, set to vote against it.
The factors which could change Brexit vote dynamics
"We're going to get smashed" – one government insider's apocalyptic prediction about one of the most important votes in recent political history.
As things stand, MPs are on course to kybosh Theresa May's long-argued-over Brexit deal, with a very heavy defeat.
Dozens of her own backbenchers have said publicly they will vote against it.
The opposition parties are adamant they will say "no" too.
Read more from Laura
Speaking to BBC Radio 4's Today programme, Mr Hunt said it was clear the Parliamentary arithmetic was "challenging", but insisted the government could still win.
"We have a government that is committed to delivering Brexit, but it doesn't have a majority and we have seen this week that there is a Speaker who is willing to frustrate the government at every opportunity."
In a shift of tone, apparently aimed at winning over Brexiteers who are determined to vote Mrs May's deal down, Mr Hunt warned that defeat for the government on Tuesday would not lead to them getting the kind of Brexit they wanted.
"If this deal is rejected, ultimately what we may end up with is not a different type of Brexit but Brexit paralysis.
"And Brexit paralysis ultimately could lead to no Brexit.
"I'm saying this would be (an) incredibly damaging breach of trust and it would also be very bad for Britain's reputation abroad, having decided to leave the EU, if we in the end for whatever reasons found we weren't able to do it."
He acknowledged that MPs opposed to Brexit were flexing their muscles, telling Today: "After this week the idea that Parliament is going to do nothing at all is highly unlikely."
But he rejected the idea of holding a series of votes to find out what kind of Brexit MPs would support, as some have suggested, claiming there was no consensus for any alternative to Mrs May's plan.
"Everyone's had a crack at what they thought was their top outcome but we are all democrats and we have a responsibility to deliver the outcome the British people voted for."
The PM's deal was "not perfect" but it did "broadly deliver Brexit", despite arguments about the Irish backstop, he added, and urged MPs to "come together" to back it.
He was speaking as MPs prepared for the third of five days of debate on Mrs May's deal, with Home Secretary Sajid Javid opening proceedings which are expected to be dominated by the issue of migration.
---
Need some guidance?
If you feel like you ought to know more about Brexit…
Corbyn calls for election over Brexit
Brexit: A really simple guide
---
Earlier Mr Hunt's cabinet colleague, Amber Rudd, told the BBC it was "right" for the government to make preparations for the possibility of a no-deal Brexit, but added: "I intend to work with colleagues to make sure we avoid it.
"I am committed to getting the best outcome for this country, which is supporting the prime minister's deal."
The government lost two Brexit votes in two days this week. The first defeat limits the government's financial powers in the event of a no-deal departure. The second defeat forces the PM to announce new plans within three days if her deal fails in the Commons.
Labour will vote against Mrs May's deal on Tuesday if, as widely expected, it is defeated, they are expected to start moves to trigger a general election.
On Thursday it emerged that the government is considering backing an amendment from Labour Leave supporter John Mann, giving extra protections to workers and the environment, in a bid to win support.
Mrs May also called the general secretaries of Unite and the GMB – Len McCluskey and Tim Roache – on Thursday, for what her spokesman described as "constructive" calls. Mr Roache said he was glad the PM had "finally picked up the phone" but that her deal was not "good enough".
The UK is set to leave the European Union on 29 March.