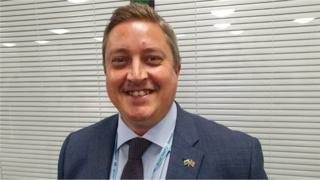 The Brexit Party has a "huge opportunity" to win Welsh seats in a general election, one of its MEPs says.
James Wells believes the party can win seats as "people are fed up with Labour".
He also said Prime Minister Boris Johnson would be in "serious trouble" if he brought back Theresa May's Brexit deal with a few tweaks.
Mr Wells, one of the Brexit Party's two Welsh MEPs, was speaking ahead of a rally in Newport on Saturday.
The party topped the polls in the city in May's European Parliamentary elections, winning 19 of the 22 council areas in Wales.
Ahead of the vote, four former UKIP AMs joined the Brexit Party to form an assembly group in the Senedd in Cardiff Bay.
Riding high in the opinion polls at the time, there is a suggestion the Brexit Party has fallen back slightly since Mr Johnson entered Downing Street.
The prime minister has said he wants to leave the European Union, preferably with a deal, by the end of the current Brexit negotiation deadline on 31 October.
He has urged the EU to scrap the backstop in the withdrawal agreement reached by his predecessor Mrs May.
The backstop is the controversial policy aimed at preventing the return of a hard border on the island of Ireland and it was a key sticking point in Mrs May's attempts to get Parliament to back her plan.
"It's not just about delivering Brexit, it's about the type of Brexit that's going to be delivered," said Mr Wells.
"Because there's so many things in Theresa May's withdrawal agreement, even when you take out the backstop, that make it toxic.
"So, I think if Boris was to bring back Theresa May's Withdrawal Agreement with a few tweaks… I don't think that would be sufficient to solidify their base.
"I think they would be in serious trouble because people would see that as a betrayal."
If the UK leaves the EU with a deal, Mr Wells predicts a bounce in support for the Brexit Party which would make it "impossible for the Tories to get a majority in Parliament".
The Conservative Party has rejected Brexit Party leader Nigel Farage's offer of an electoral pact.
On the idea of a Tory-Brexit Party deal, Mr Wells said: "All we're offering the Tories is a way to get a Brexit Parliament – we are not suggesting that we will form a coalition with them and become Tory-lite."
He added most of the seats his party would target in a general election are held by Labour.
The former civil servant said "people are fed up with Labour in Wales" because its Brexit stance is "a total betrayal" and they "do not like [UK Labour leader] Jeremy Corbyn".
He also criticised the Welsh Labour government's "waste of public money", drawing attention to the £144m spent on the scrapped M4 relief road.