The UK is open to extending the Brexit transition period in a bid to break the impasse in the negotiations.
Brexit Secretary Dominic Raab said the government would consider such a step as a way of negating the need for a Irish border backstop, provided there was "route out".
The issue of how to avoid a hard border between Northern Ireland and the Republic in the event that a deal on Britain's future relationship takes longer than expected has been the source of much contention between both sides.
The EU wants the backstop – essentially an insurance policy – to apply to just Northern Ireland, something which Prime Minister Theresa May has spoken out against.
Extending the transition period – which will run from March 2019 to the end of December 2020 – may allow more time to sort this out.
But the move would prove controversial with eurosceptic MPs, who would likely be against sticking to EU rules and regulations for any longer than is necessary.
Mr Raab told the BBC's Andrew Marr Show: "If we need a bridge from the end of the implementation period to the future relationship … I am open minded about using a short extension of the implementation period.
"It is an obvious possible route as long as it is short, perhaps a few months, and secondly that we know how we get out of it and obviously it has to solve the backstop issue so that that falls away then as a possibility."
Mr Raab also said he thought a withdrawal deal needed to be agreed by the end of November in order to get the legislation through parliament in time for when the UK officially leaves in March.
His comments on the transition period were echoed by Brexit minister Suella Braverman.
She told Sky's Sophy Ridge on Sunday programme: "Dominic has been clear that we would accept a potential extension by a few months subject to either a finite time limit or mechanism to extricate ourselves from it if it means breaking this impasse and avoiding the very unattractive proposal by the EU, which is an indefinite customs union and a limbo period, which would cause complete uncertainty and not honour Brexit."
Ms Braverman added: "We need a date or a very clear mechanism or clause in the agreement which enables us to get out of it.
"We cannot sign up to something which is in perpetuity, vague and leaves us exposed to indefinite membership of the customs union."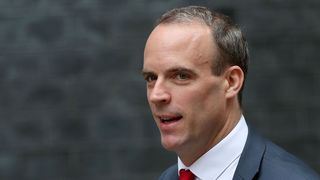 The latest Brexit developments have piled further pressure on Mrs May, with some MPs reportedly warning the PM she has days to save her job.
When asked about the growing criticism of his boss, Mr Raab said: "We are at the end stage of the negotiation.
"It is understandable that there are jitters on all sides of this debate.
"We need to hold our nerve. The end is in sight in terms of a good deal, the prize we want."