Eni (NYSE: E) is an Italian multinational oil and gas company, and considered one of the oil and gas supermajors. This puts the company on par with other companies such as Exxon Mobil (NYSE: XOM), Chevron (NYSE: CVX), Royal Dutch Shell (NYSE: RDS.A) (NYSE: RDS.B), and Total (NYSE: TOT). The company's enormous size and strong portfolio of assets make it a strong and reliable investment decision.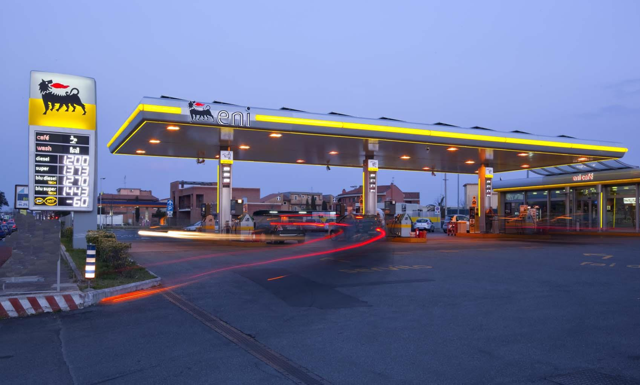 Eni Station – Shate
Eni Overview
Since Eni is one of the least known of the oil majors, I'll begin with an overview of the company.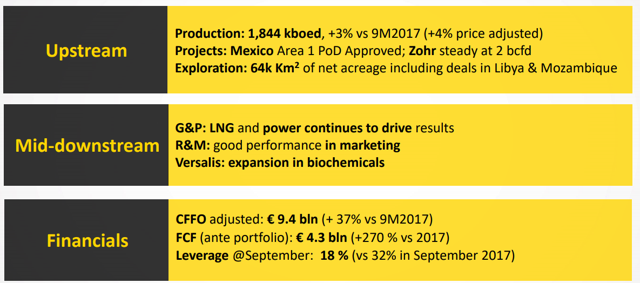 Eni Overview – Eni Investor Presentation
Eni's production is almost 2 million barrels per day, and the company is undergoing a significant exploration plan. The company is also focused on vertical integration, like all other oil majors, with the desire to drive results from its downstream, midstream, and upstream segments. Over the past year, the company has managed to grow its production by the mid-single digits.
At the same time, in the downstream sector, the company has been focused on restructuring its business. This restructuring will result in steadier cash flows for investors.
Eni Future Potential
Eni has recently decided to take advantage of low oil prices, by undergoing a significant growth plan. I believe this growth plan, which will be discussed in additional detail below, should generate strong returns for investors. At the same time, it'll allow the company to maintain and even grow its strong dividend of almost 6%.

Eni 4 Year Plan – Eni Investor Presentation
Eni anticipates 3.5% in organic growth during 2017-2021. That is respectable growth for a stalwart oil major, at more than double the rate of inflation. This growth should help provide the company with continued cash flow growth going forward. At the same time, the company believes it'll be able to cover the entirety of its 4-year plan upstream capital spending at Brent prices of roughly $40/barrel.
Current Brent crude prices are more than $60/barrel. This is significantly above the company's current breakeven rate. That should mean continued strong cash flow for the company going forward. More importantly, it means that the company will continue expanding even if oil prices take a hit in the future.
Currently, the company is aiming for 2 billion barrels in its 4-year exploration plan resources. While this is a respectable amount of resources, the company's 4-year production is closer to 3 billion barrels. As a result, even this respectable 4-year plan won't replace the company's production. This means that the company will have to step up capital investing in the coming years.
However, the results from this project will still be huge. The company anticipates 4-year plan upstream FCF of $25.5 billion. This comes out to $6.4 billion annually, a respectable amount from just the upstream segment of a company with a $120-billion market cap. This strong earnings potential is reflected in Eni's current P/E ratio of roughly 15. The company's earnings remain strong for a downcycle.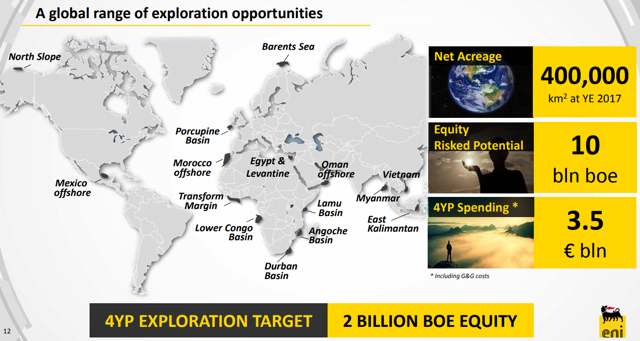 Eni Opportunity Range – Eni Investor Presentation
Eni's impressive portfolio of assets means the potential for continued exploration success in the long term. The company has a total of 400 thousand km square of net acreage, with a significant amount of equity-risked potential from its assets. The company's $4 billion 4-year spending plan falls well within the company's earnings abilities.
One example of the company's exploration abilities is in Mexico. In Mexico, the company has a rapidly-growing, high-quality portfolio. In Area 1, the company is an operator with 100% working interest across 3 fields. This shallow water field has 2 billion barrels of potential, a significant amount above what was potentially thought. The company anticipates long-term production of 90 thousand barrels / day.
At 2 billion barrels in resources, that means more than 50 years of resources. The company has recently acquired several wells, and anticipates drilling to begin in 2019. Eni is a reliable and steady major. This reliability continues even in the risky environment that is oil and gas drilling. As a result, going until 2025, Eni anticipates production growing at 3-3.5% annually.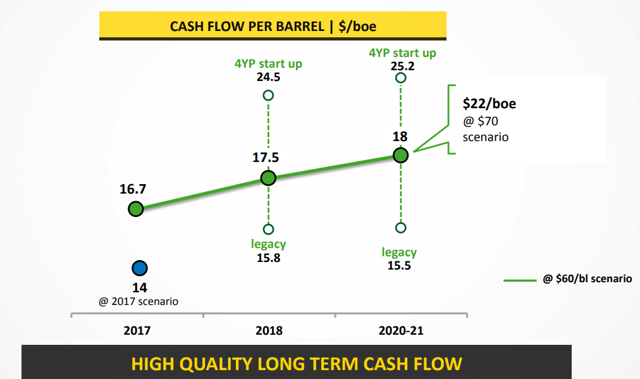 Eni Cash Flow Per Barrel – Eni Investor Presentation
On top of growing production, Eni expects margins to improve. This will result in rapidly growing cash flow for investors. The company anticipates cash flow growing to $18 per barrel from 2020 to 2021, up from $17.5 per barrel in 2018. This is at a $60 / barrel scenario, which is in line with current oil prices. Should prices recover to $70 / barrel, that'll result in cash flow growing to $22 / barrel.
This is a significant expansion in cash flow from the $14 per barrel in the 2017 scenario. That expansion of cash flow will result in growing income for investors going forward.

Eni Midstream – Eni Investor Presentation
At the same time, Eni is focused on expanding its mid-downstream key targets. The company anticipates $2.32 billion in EBIT by the end of the plan with 4-year plan cash flow of $5.5 billion. That, combined with the company's upstream business, means more than a billion in additional annual cash flow each year. This will continue to support increasing rewards for shareholders.
Another aspect of the company's business is gas and power. The company is a top player in the LNG markets, and the company anticipates LNG production more than doubling by the end of its 4-year plan. The company anticipates $2.8 billion in 4-year cash flow from this aspect, which added to the other company's assets mean another significant increase in cash flow.
Together, the company's upstream, midstream, and gas businesses combined should provide $8.5 billion in annual cash flow over the next 4 years. That's more than enough to cover the company's impressive dividend of almost 6%, while leaving the company with some additional room on top.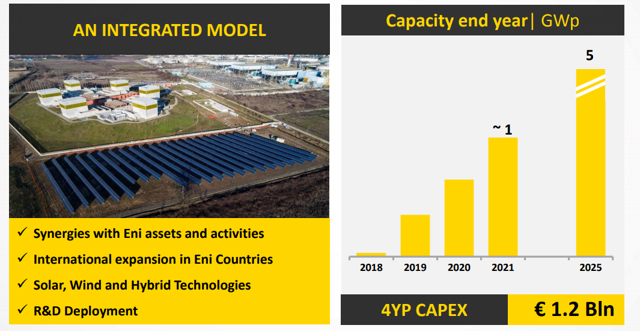 Eni Renewables – Eni Investor Presentation
Another potentially important long-term aspect of Eni's integrated model is the company's continued focus on renewable financials. The company is investing $1.4 billion in renewable assets, which will have synergies with the company's other assets. At the same time, the company will be able to expand this portfolio to other countries, enabling it to have a number of investments to choose for.
Overall, the company anticipates expanding capacity significant to 5 GWp by 2025. While for now this is a source of spending for the company, this could mean long-term cash flow after the next few years.
Eni Shareholder Returns
Now that we've discussed Eni and the company's future potential, let's continue by discussing the company's long-term shareholder returns. I've already talked some about the company's secure dividend of almost 6%, which I expected should continue to increase going forward.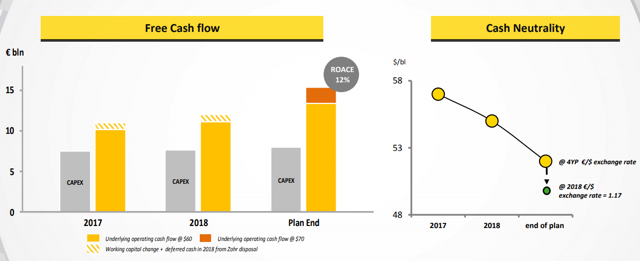 Eni Cash Flow – Eni Investor Presentation
Eni is focused on its upstream potential while limiting its downside. The company's FCF has continued to remain about its capital spending, despite the company's heavy continued investments into its business. The company anticipates this difference between FCF (at current oil prices) and capital spending to be roughly $5 billion at current oil prices.
This shows the potential success of the plan. If oil prices increase to $70 per barrel Brent, that could mean another $1 billion in cash flow difference. At the same time, the company anticipates cash neutrality dropping significantly. The company anticipates cash neutrality dropping to $52 per barrel by the end of the plan.
Eni is committed to returning this capital to shareholders in a sustainable way. The company's dividend of almost 6% was increased by almost 4% from 2017 to 2018 and I expect continued mid-single digit increases in the company's dividend. With Eni's reliability continued, 3.5% compound increases until 2025 mean someone investing today will have a 7% yield on cost in less than 6 years.
At the same time, Eni plans to use additional capital for share buybacks. This is a win-win, saving the company almost 6% on dividends while enabling higher earnings for shareholders. Eni has recently said its leverage level is low enough that the company can start buying back shares. I anticipate these buybacks can provide strong returns for shareholders.
Conclusion
I am a big fan of Eni, which I see as a low-risk company providing strong returns to shareholders. I expect that the company will continue to increase its dividend at several percents annually while increasing its production. The company has begun to significantly improve its financial position too. Going forward, I expect someone who invests today will have a 7% yield on cost by 2025.
Eni is also investing in the long term. The company has an impressive portfolio of assets that should provide continued growth. The company has continued to invest in long-term asset plays such as renewable assets. Overall, I expect Eni to continue to provide steady and growing returns to shareholders. This makes the company a good investment for shareholders who want reliable returns.
Disclosure: I am/we are long E. I wrote this article myself, and it expresses my own opinions. I am not receiving compensation for it (other than from Seeking Alpha). I have no business relationship with any company whose stock is mentioned in this article.