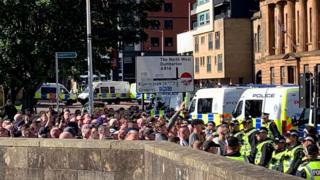 More than 1,000 people have taken part in two Republican marches in Glasgow.
Officers in riot gear and mounted police were deployed to the parades, one week after clashes between marchers and protesters in the Govan area.
There were counter demonstrations at both marches but they were quickly contained by police. Ten people were charged for a variety of offences.
A "pyrotechnic" thrown on Clyde Street injured an officer and he was taken to hospital.
The charges include a 33-year-old man accused of carrying an offensive weapon and a 15 year-old boy accused of possessing an offensive weapon.
The first march – A Cairde Na Heireann (Calton Republicans) – attracted about 100 participants and started on Millroad Street in the east end at 14:00, finishing on Clyde Street.
About 300 people took part in the second event – the Friends of Irish Republican Prisoners Welfare Association parade – which was due to start at Blythswood Square at 15:00 but was held up for an hour. It ended at Barrowlands Park in the Gallowgate.
A heavy police presence was on hand to separate marchers from counter-protesters – the majority of whom appeared to be held at King George V Bridge, next to the Riverboat Casino.
Fireworks, which appeared to have come from the counter-protesters, were set off, with police telling members of the public to move back from the area.
Police Scotland said it deployed a "significant presence" to the marches.
"The majority of those who took part in the processions listened to us and complied with our instructions," Assistant Chief Constable Bernard Higgins said.
"I am, however, disgusted at the recklessness and stupidity of those who decided to throw pyrotechnics, one of which injured an officer.
"He was simply carrying out a duty which allows us to facilitate people's rights and ultimately we were here today to keep everybody safe."
Police to have 'significant' presence at marches
Legal moves to tackle sectarian disorder
Glasgow City Council allowed the processions to go ahead a week after a march through Govan was marred by sectarian violence.
Council bosses had previously threatened to take action against marches to protect the public.