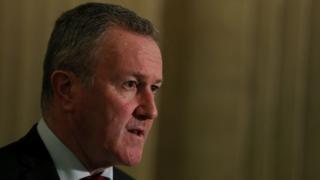 The mother of a man murdered in 2007 has said Sinn Fein's Conor Murphy must publicly apologise for comments linking her son to criminality.
Paul Quinn, 21, from County Armagh, was beaten to death in a barn at Oram, County Monaghan.
Sinn Féin's leader has said Mr Murphy will apologise to Mr Quinn's family.
Mr Quinn's mother Breege said the apology must be made on national television "because that is where he put the slur on our son".
During the Prime Time Leaders' debate on RTÉ on Tuesday, Sinn Féin president Mary Lou McDonald said she was aware Mr Murphy's comments caused hurt and that he would apologise.
Mrs Quinn, from Cullyhanna, County Armagh, told the BBC she welcomed Ms McDonald's comments, but added: "Conor Murphy still has to do his part and come out publicly and apologise to us – and I mean publicly on national television."
She said Mr Murphy should also "go to the PSNI and the Gardai and give the names of the IRA people he said he spoke to in Cullyhanna".
The Quinn family has always blamed the IRA for murdering their son.
Shortly after the attack Mr Murphy said Mr Quinn was involved in smuggling and criminality.
Speaking to the BBC in November 2007 Conor Murphy said: "Paul Quinn was involved in smuggling and criminality. I think everyone accepts that.
"As I say, this is a very difficult situation as there is a family grieving. I don't want to add to their grief."
Mr Murphy also said he had spoken to IRA members about the attack and had been told the IRA was not involved.
Speaking in the debate, Ms McDonald said "the only criminals involved in this scenario are the people who so cruelly and viciously took his [Paul Quinn's'] life".
"Those things should not have been said. Conor withdraws them and apologises. That's the correct and the decent thing to do," she added.
"A family that has lost their son in such brutal circumstances doesn't need the additional hurt and grief of those remarks."
The gang who murdered Mr Quinn used nail-studded clubs and iron bars to beat him for upwards of half an hour, breaking every major bone in his body.
In a report in November 2007, the International Monitoring Commission said current and former members of the IRA may have been involved in the murder.