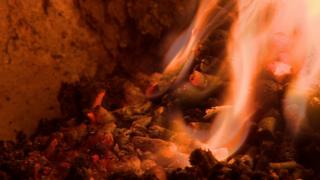 The report into the Renewable Heat Incentive Scheme (RHI), which led to the collapse of devolution in 2017, will be published on Friday 13 March.
The inquiry chairman, Sir Patrick Coghlin, will make a statement in the Long Gallery, Parliament Buildings in Belfast.
The scheme was set up to encourage the use of renewable energy sources, but it closed in 2016 after concerns were raised about cost controls.
The inquiry was established in 2017.
Major flaws in the set-up and implementation of the scheme meant it effectively encouraged individuals and businesses to burn more fuel to earn more money.
It became known as the "cash-for-ash" scandal and the scheme risked going vastly over budget, with fears the overspend could reach as much as £700m over 20 years.
The scheme was shut in 2016 and deep cuts in subsidies introduced in 2017 and 2019 brought it within budget.
A top civil servant has since told MPs that the overspend figure had actually been just over £33m before the measures to curb spending were introduced.
Three years after it was established the Renewable Heat Inquiry will issue it's report next month.
The Chairman Sir Patrick Coghlin, has chosen Stormont, where the political institutions collapsed in the wake of the scandal.
It will address several important questions:
was there a DUP conspiracy to delay lucrative cost controls in the runaway scheme?
did former Economy Minister Arlene Foster pay enough attention as her officials designed and implemented it?
what lessons must the civil service learn to ensure it never happens again?
The contents will be eagerly anticipated and pored over to see whether three years on, they have any political ramifications.
The scheme ultimately led to the collapse of power sharing at Stormont in January 2017 when Sinn Féin's Martin McGuinness resigned as deputy first minister in protest at the DUP's handling of the scandal.
The scheme was run by Stormont's Department of Enterprise, Trade and Investment (Deti), which later became the Department for the Economy (DfE).
The ministers in office during the creation and implementation of the scheme were the DUP's Arlene Foster and Jonathan Bell.