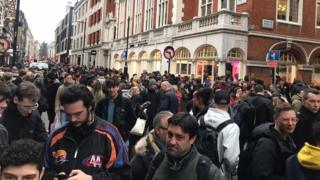 Several streets in London's central Soho district were evacuated after an unexploded World War Two bomb was found.
Police were called to Dean Street at about 13:50 GMT after the ordnance was discovered during building work.
Soho Hotel, the Soho Theatre and the Groucho Club have all been evacuated.
A police cordon was in place between Oxford Street, Charing Cross Road and Shaftesbury Avenue.
Shortly after 17:30 the Met Police said the cordon would be scaled back to just Dean Street.
Musicals including Mary Poppins at the Prince Edward Theatre, and Les Miserables at the Sondheim Theatre, will all go ahead as planned, the Delmont Mackintosh theatre group has said.
Singer and author Tracey Thorn has had to cancel a book signing at the Groucho Club.
At the scene
BBC London reporter Sarah Lee
Soho is home to some of the capital's most popular bars, restaurants and theatres.
The area is also famous for housing many of the largest distributors in the UK film industry.
Videos on social media showed groups of people fleeing buildings.
Tourists have been pushed back from the area and were told to disperse.
A slight sense of panic hit the streets when people heard police shouting to get back.