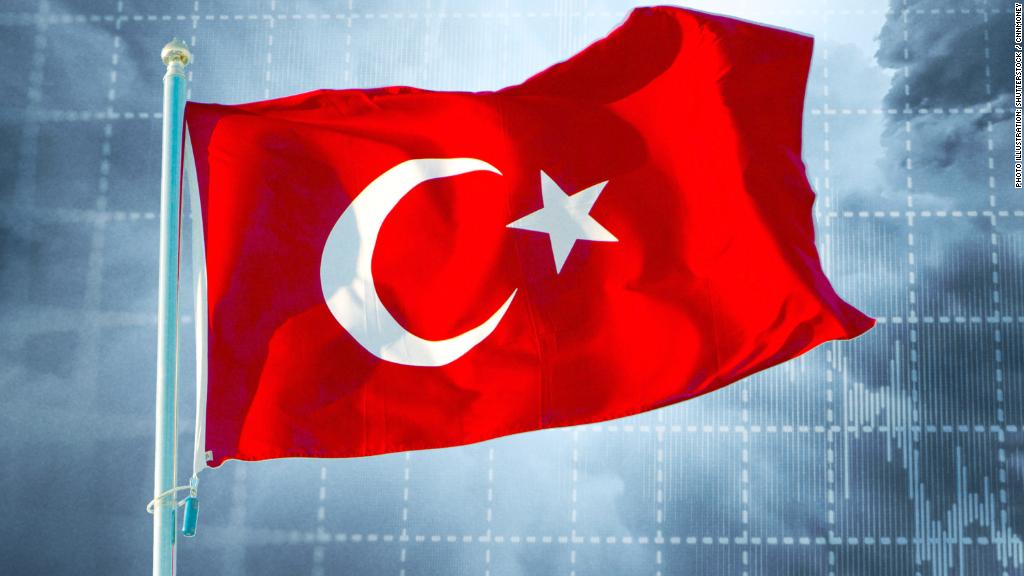 The Turkish lira plummeted as much as 13% against the dollar on Friday, deepening worries about the country's economic stability.
The currency's plunge reflects a range of concerns, including tensions with the United States and the unwillingness of Turkish authorities to raise interest rates. Turkey has threatened to retaliate after the Trump administration imposed sanctions on senior Turkish government officials for their role in the detention of an American pastor.
Turkey on Wednesday sent a government delegation to Washington in an attempt to defuse the situation, but it wasn't clear whether any progress was made.
Adding to the negative mood Friday, the Financial Times reported that the European Central Bank is concerned about eurozone banks' exposure to Turkey because of the tanking lira. The ECB declined to comment.
"It's been a double whammy for the lira," said Rodrigo Catril, a senior currency strategist at National Australia Bank in Sydney, referring to the tensions with the United States and the Financial Times report.
Related: Turkey could be the next emerging market crisis
He added that investors were becoming increasingly worried about rising inflation in Turkey and the ability of the country's central bank — whose independence has been questioned by investors — to do anything about it.
After hitting a new all-time low against the dollar on Friday, the lira regained some of its losses to trade down about 6%. It has dropped about 40% against the US currency since the start of this year.
"Investors are getting increasingly concerned that a full blown currency crisis may be imminent," David Cheetham, chief market analyst at trading firm XTB, said in a note to clients.
The Turkish economy has expanded rapidly this year compared with 2017. But its growth in recent years has been fueled by construction financed largely by foreign investors.
Investors worry about the country's ability to bring in money during tough times to pay off its debts.
President Recep Tayyip Erdogan, who was re-elected in June, is another source of uncertainty. He has granted himself more power over economic policy and resisted calls for further interest rate increases.
"It seems highly unlikely that Erdogan will perform a dramatic U-turn on his monetary policy stance," Cheetham said.
— Ivana Kottasova contributed to this report.
CNNMoney (Hong Kong) First published August 10, 2018: 4:07 AM ET